How to Revamp Your Everyday Hairstyle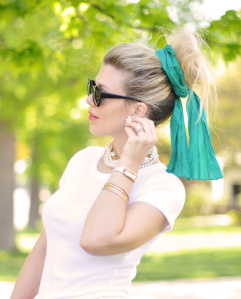 By Kristina Henry
We love fall fashion! Every fashionista knows that a look isn't complete without a great hair-do. Spice up your everyday look by adding a hair accessory!
If you prefer to keep your hair out of your face, try a headband with a fun pattern. Part your hair in sections, then curl it and brush it out for wavy tresses.
Scarves are also great for a sleek look! Not to mention they're great for bad hair days. Tie a scarf around your head (leaving your hairline out) or around your bun for a quick and easy style.
Rhine-stoned pins are also a good way to add sparkle to a simple hairstyle!
photo credit: …love Maegan via photopin cc