How To Make Your Nail Polish Last Longer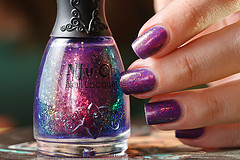 Have you ever gotten your nails done only to have the polish chip a couple of days later? While problem may be relatively small in the grand scheme of things, it can be frustrating because it leaves your newly manicured nails looking messy and uncared for. Here are some tips on how to make nail polish last longer.
Before polishing your nails, soak them in lukewarm soapy water for a few minutes so that when you do polish your nails, you're doing so on a clean surface.
Put nail polish remover on a cotton ball and use it to remove any traces of old nail polish and dirt.
Apply a thin layer of a clear base coat in straight strokes.
Select a long lasting nail polish. Dark colors chip much more easily than light ones so it's best to stay away from those colors even if they are trendy. Sparkly nail polish colors are long lasting because the sparkles cling on to the nail.
Apply 3 thin layers of the nail polish color that you want to use. Don't forget to paint the ends of your nails.
Apply a thin clear top coat to give you a nice shine and to help your manicure last longer.
Allow enough time for your nails to dry properly.
On a final note, if you're using a cheap nail polish, apply a thin layer of a clear top coat every other day as the cheaper polishes tend to chip more often. The extra layers will protect your style.