Skin Care Tips For Men That Are Easy To Follow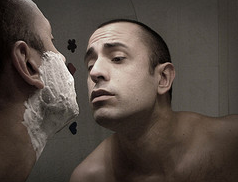 Many men neglect their skin because they may think that it's not necessary or because they don't have the time However, men's skin care is highly important because we put a lot of stress on our skin by shaving daily and because of environmental reasons.  To show the guys out there that male skin care is important and can be easily done, here are some skin care tips for men that every guy should know and follow.
Don't use soap.
When washing your face, use a gentle face wash that is made for your skin type rather than soap. If you use the same soap on your face that you use to wash your body, the alkaline base in the soap will dry out your skin and cause it to be age faster.
Know your skin type.
It's important to know what kind of skin you have because if you're using the wrong skin care products, you can make your skin even drier or more oily.
Shave carefully.
While you may be tempted to shave as quickly as possible so that you can get on with your day, it's best to take your time when shaving so that you don't cut your skin. After all, who wants to walk around with bits of toilet paper on their face? It's also important to use a good shaving gel to help you lubricate your skin as you shave and allow the razor to easily glide over the skin. If you have a patch of skin that is already aggravated (for example, if you have a pimple), be sure to shave lightly and carefully over the area so that you don't cause the skin condition to get worse.
Select your aftershave with care.
Aftershave that is alcohol-based should be avoided because it promotes dead skin cell buildup and in turn causes ingrown hairs which will irritate the skin. Instead, use an aftershave that is right for your skin type to help alleviate the stress that shaving puts on your skin.
Use a toner and moisturizer
Toners can make your pores appear to be smaller and make your skin look vibrant and healthy. Be sure to apply it before you apply moisturizer. Once applied toner, use a moisturizer that has SPF in it to protect your skin from the sun. It's important to moisturize every single day, even if you're indoors all day in order to keep your skin soft, hydrated and youthful. Be sure to use a moisturizer that is right for your skin type.
Eat right and exercise
Perhaps the most important aspect of having a proper diet is to drink plenty of water to help keep your skin and body hydrated. It's also important to eat a lot of fresh fruits and vegetables, fish and whole grains to keep your skin looking vibrant and healthy. While everyone craves greasy food from time to time, it's best to try to keep intake down to a minimum because greasy food cause oily skin. In addition to eating right, you should also exercise regularly to open your pores and allow your body to get rid of some of the toxins in your body.
So you see, there's really not much to it, but this routine should be a regular part of your day because if you don't stick to it you won't see the results- at least not lasting results.