How to Handle a Bad Hair Day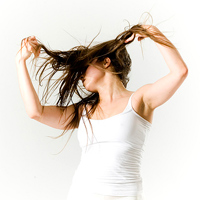 It's too late to shampoo, condition, blow dry and style your hair. You can feel the desperation setting in. You are about to endure a bad hair day unless you think quickly and do something about your dilemma.
The following tips may help:
Wet your hair slightly so that it looks like you just got out of the shower. It's a lie, but most people will be too polite to question you.
Hide your hair under a colorful hat. This technique works really well in the winter unless you would be expected to remove your hat indoors. Think this one through carefully. Depending upon where you are going, a baseball cap and ponytail can be perfect—unless you work in a professional office setting.
Take a detour by your favorite hair salon. Your stylist is trained to turn bad hair days around in as little time as possible. While you're there, make an appointment for a new haircut if you're overdo. That could be part of the reason why your hair is becoming so unmanageable.
Consider adding a scarf. A really wide one can artfully cover most of your hair. If you fold it into a narrow strip, you can use it as a colorful headband and curtail wayward strands of hair—or just use a regular head band.
Other accessories could include a bright flower or colorful clips. They will add interest and let gazers know that you at least tried to do something with your unruly hair.
Are your bangs totally misbehaving? If you can bring some sense of style back to them, your entire hairdo will automatically look better.
Oily, greasy hair? Simply use a tiny amount of talcum powder, baby powder or dry shampoo to absorb some of the excess grease in your hair. Brush out thoroughly, or you will appear to have gone prematurely grey, and that's another whole explanation.
Hair extensions can be a godsend if you know how to use them skillfully. In just a few minutes, you can transform your bad hair into a stylish hairdo. A clip here and a clip there and you are ready to face the day. Make sure that your extension is well blended and indistinguishable.
Pull your hair back, pin it up or braid it. All three of these techniques work, especially if your hair is long enough to pull back, pin up or braid. Strategically placed bobby pins can help.
Go back to bed—Call the day a wash and get back under the covers. Grab your coffee and a good book on the way.
There's no shame in having a bad hair day—we'll all been there, done that. Fortunately, it takes just a little time and a few tools to save the day. If all else fails, realize that this is really not as big a deal as it seems. Have a laugh, shrug it off and enjoy your day.
Image via Ivars Krutainis